4 Ways To Make Houston, Tx A Good Time
Acro Yoga at Ahisma Studio:  For Someone Looking For Good Ol' Fashion Body Work And Friendly People
If you ever wanted to know what it was like to skydive while getting your ass kicked by Bruce Lee, than you'll begin to have an idea of what acro yoga is like.  During your session you'll find yourself lifted into the air and put into strange positions with your body hanging helplessly on the limbs of other people as if you were the new guy in prison.  
Make sure when you do this you have a good support group.  Acro yoga did for trust falls what John McClane did for jumping off of exploding roof tops.  When the shit goes down, sometimes you've just got to tie a fire hose around your waste and take a 20 story dive into the unknown.
While there I got the royal treatment from my partner Wallace who reassured me that despite the homosexual overtones of a positions that landed my face almost right in his crotch, they were quite effective.  He was right.   Sometimes to get your body aligned, you've got to go a little gay (you can quote that Kundalini).  If you've got a few hours and want to rock your body, stop in and give yourself a twist and shout.
Personal Yoga Recommendation:  Anna Whitmire.  An outstanding yoga and swing dance intructor.  If you can grab a class with her it will be well worth your time and money.
http://www.happybellystudios.com/about-us/yoga-instructors
Cedar Creek Bar and Grill: For Those Looking For A Great After Hours Hangout
It's a personal favorite of mine when I walk into a joint and the aesthetics immediately grab my attention and warm me up to the place.  Like entering a bedroom decorated by a beautiful half naked woman, Cedar Creek did just that.  This restaurant/bar is an affodrdable and spacious late night hangout that is perfect for enjoying food and a few microbrews to cool down the Texas heat.  So why should you give this place a gander?  Here are a few reasons:    
1)  They offer unique healthy food items like bison burgers and grilled salmon salads that can march to the beat of John Philip Sousa just as well as your typical bar food. So if having a triple bipass isn't in your five year plan, this place suits.
2)  Great outdoor patio that is very large and spacious. In the winter they burn cedar wood in fire pits, which is where they got their name.  If the Houston city lights afforded eyes to see the stars, I'm sure they'd be pretty spectacular from there.  
3)  Cute bartenders you can make playful eyes at.  Like Ashley, our friendly barkeep.  Don't worry girls, they have guys too.  They love you so much, they're heart broken to see you leave.
4)  Interesting people chalked full of fascinating stories like this fellow traveler.  He told me he once married a close friend of his with a terminal illness because she always wanted to get married.  She died shortly after their wedding day.  A story right out of A Walk To Remember.  
He also shared how in certain South American countries, people who try to mug you will get your attention by slicing you with a razor blade.  I guess if you're looking for a good attention getter that's one way to do it.  His dad, a military man, found a better way.  He shot two muggers in the chest who were attempting to mug someone.  I guess that's an effective way to one up the competition.
You think that means peace, but really that means how many .45 caliber bullets the coroner will be removing from your chest if you choose to razor blade this guy.
Herman Gardens:  Where To Get Your Zen On
If you want to take a break from the hustle and grind of the city and give yourself an afternoon to bring out your inner Siddhartha, than the Herman Gardens are worth checking out.  From Rose Gardens to Japanese Gardens to the occasional "dead because of the scorching summer heat" gardens, this place will give you the luxery you always wanted in a backyard without the inconvenience of spending your free Saturday mowing it.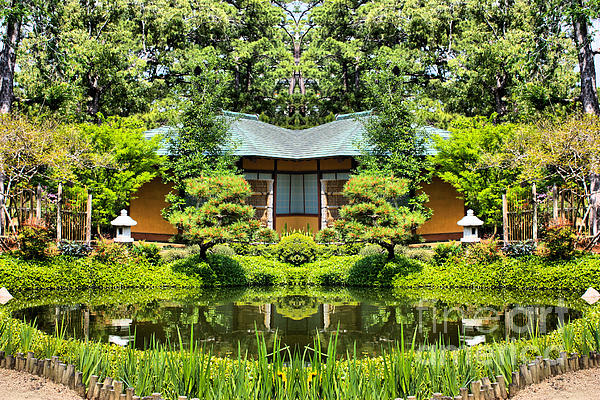 The Japanese Gardens
The Rose Garden 
The Garden Workers Who Escape You And The Heat By Hiding Inside.  
If you want entrainment, talk to the locals.  The guy on the left, Malcom, was a walking vocal impersonation of Billy Bob Thorton in Slingblade.  Half the time I didn't know what the hell he was saying, so I marked my responses by when he'd suddenly laugh through a barrage of inaudible slurs.  All in all though, he was a friendly guy.  Of course he could have been cursing me with voodoo, but I would never know the difference.  
"I reckon I was going to reckon something, mmmm hmmm…."
Kata Robata:  For Those Looking For Cream Your Jeans Delicious Sushi
I had all of about five minutes to get ready to come to this place my Houston host said I just had to try when I arrived at her house Friday evening.  I had been traveling all day so the only clothes I could pass off that didn't look like a 95 year old wrinkled man was a pair of tennis shoes, athletic pants and a black wife beater.  My version of what we hitchhikers refer to as Hobo High Class. It didn't matter.  When I showed up to this slice of heaven that fell to earth and landed in Houston, Texas, my taste buds were ignited.
If you're looking for some delicious sushi, this is the place to go.  What I enjoyed most about this little restaurant that fused its menu with some of the local Texas palattes, was their addition of sliced jalapenos on top of some of our rolls.
Following this mouth watering masterpiece, I was given the wonderful pleasure of tasting these two unique and delicious desserts.
The item on the left is a unique take on the classic creme brulee.  What they do differently is add black sesame and what tasted liked aspects of seaweed.  Don't let that deter you.  It was delicious and matched beautifully by the uniqueness of a green tea ice cream.  
The second dessert was something I had never tried before in my life.  It was some type of hazelnut raspberry meringue.  The texture of the meringue was almost like a dry form of whipped butter that melted in my mouth.  The green nutty powder below had similar flavor profiles to graham crackers that had the perfect blend of salty and sweet.  
Some restaurants, in an attempt to be fancy will add some sort of fruit sauce to their desserts to decorate the plate and allow them to charge an extra $2 when in fact the sauce doesn't pair at all with the actual item.  That wasn't the case here.  The raspberry sauce gave just the right amount of fruit and sour aspects making this my favorite dessert on their menu.
Finally, for those of you who remember my cucumber drink from St Louis will be happy to see my after dinner cocktail:  The Cucumber High.
The beauty of cucumber drinks is the amazing freshness they carry over your palate.  It's the equivalent of cilantro in my book, something that just tastes how freshness feels.  Made with cucumber infused vodka, simple syrup, sweet and sour and muddled cucumber, this drink far and away surpassed my St Louis cocktail in terms of flavor and gets a big thumbs up from me.  If you make it down this way, be sure to get your wheels turning to Kata Robata.
My fantastic host, Anna Whitmire.  She knows how to treat a guest, but will only show teeth to the camera if you give her a cupcake.
Tune in next time when I tell you about my hard trip up to Dallas, my run in with the law, and one of the most unexpected surprises I could have imagined.
*** Be sure to "like" this if you enjoyed it.  If you have any suggestions on places to see in the US, please post them in the comment bar or message me.  If you happen to be awesome at web design and have a few tips for me, please enlighten me too.  If you just want to give me a sandwich and some cuddles, send me your address and I'll put you on my future destinations."
Tweet
wacsonwacsoff posted this