The Surprise 4th Quarter Touchdown!!! (The Conclusion Of My Trip To Pensacola)
And now for the "to be continued" to be continued.
My last entry found me at a gas station around 9 PM getting ready to look for a bridge to sleep under.  I had very little luck with rides that day and night time had fallen.  If you think people are wary of hitchhikers already then take that, shoot it up with buffalo steroids and you'll have a glimpse of how they feel about picking up hitchers after dark.  Corey Heart may have sung about wearing sunglasses at night, but the theme song in the heads of drivers when they see me after dusk falls along the lyrical lines of "that guy buries minivan drivers at night".  
As of yet I have not had to sleep outside, but the idea of it doesn't bother me.  I prefer not to have to strike up a tent at night because, unlike the blind Colonel Frank Slade who can put together a .45 while telling a woman she smells like peach seaweed, I'm short on practice with my ninja night tent assembly skills, and am still uncertain of the laws involving camping on the side of a highway. 
"Ooooh ahhhh, that was a mouth full"
Mostly though, my hesitation could be catalogued under a wariness that somewhere in the tall grasses of the Southern US lurks a coral snake/alligator/brown bear/mosquito hybrid that threatens to poison, drown, devour and make me itchy till death do us part.  Hence my desire to find a bridge that I could sleep under.  Pre-made shelter far away from Nature's unique science experiments.
Pictures of this beast are classified until someone explains why oreos are so addicting
The only thing that discouraged me was that it was night time and I had made it all of 25 miles on a trip that was 442.  If my numbers were a movie star line up, Paris Hilton and Fran Drescher would be my headliners.  As I walked out of the Burger King that shared its wall with a gas station, I stared up into the night sky and prepared myself for a long walk under the stars.  I took a deep breath and began to walk forward when I noticed a man standing in front of a truck.  He was looking at me.  I turned and we locked eyes.  As a hitcher you live for the locked eyes because it means there is a chance this person might help you. 
The reason why Dracula was never an old souther black woman with one tooth and a book entitled Cigarette Seduction.
He then asked me where I was headed?  My sense of hope began to raise its head and I told him Birmingham.  Without a moments hesitation he said, "that's where we're going.  Hop in." I let out a huge sigh of relief.  Birmingham was still about three hours away so this was a fantastic score.  He went inside and came out with a bottle of water and handed it to me.  "This is for you."  I graciously accepted and threw my bag in the back and said a silent thank you to the Universe and promised to come back as a smore it could eat over Christmas in my next life.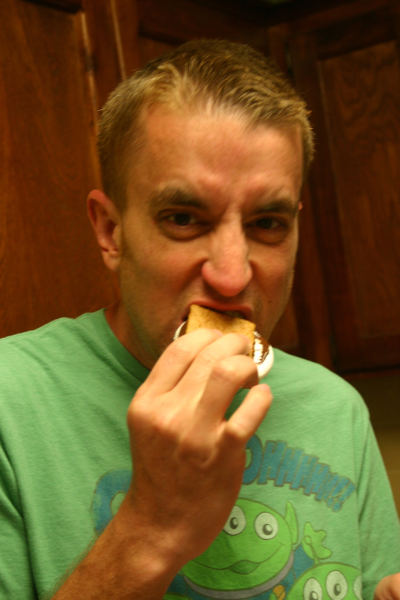 The Hungry Universe
Me As My Next Incarnation:  Dessert
The man's name was DR and he was driving back to Alabama with his grandfather.  He was a wonderfully generous man and very good conversation for the three hour drive.  It's interesting.  Being in the south, my brain has a tendency of assuming everyone is a red neck interested only in tractor pulls and mud rallies, so I am always curious when the conversations get going.  I never know what to expect. I guess it's the same kind of curious expectations people have when picking up a hitcher.
 
As we drove he told me I was fortunate because they weren't originally planning on coming my direction.  He didn't realize I had turned on my lucky switch earlier that day.  It wasn't until later that I realized just how much my lucky switch was working.
He asked me where my next destination was and I told him Pensacola.  Right after I said this he turns and says, "my grand dad is going down to Mobile tomorrow morning which is about an hour from Pensacola.  You can drive down with him."  The jack pot sign was hitting all 7s and I was shooting fireworks silently out of my ass.  This would save me so much time.  The only thing I needed now was to find a place to sleep for the night.  I originally had a place lined up with a guy from couch surfing, but being that I was getting in so late, he was going to be hours into counting sheep. 
Once again, this problem was swiftly dealt with.
DR asks me where I was planning to sleep for the night.  I told him I wasn't certain yet and that I'd probably just find a place outside to sleep when we got to Birmingham. Staying in the same vein of amazing generosity he tells me, "why don't you stay at my place and get a hot shower and some food in you."  If I was going to come back as an edible smore, than now I was going to have to bring some duck fat fries with me too.
I stayed the night at DR's place.  It was huge and caught me by surprise.  He put me up in his living room and said "there's food and drinks in the fridge.  Help yourself."  That night I laid down with a big smile on my face not thinking of my sun scorched arms or my tired shoulders.  I simply lay in a state of gratitude at the wonderful surprises life can bring you.
Sometimes when things aren't seeming to go the way you want, you just have to have faith that every thing's going to work out just as it's supposed to.  This was one of those instances.  There was a reason I didn't catch many rides.  Getting to that Burger King when I did and having that conversation with the traveling couple positioned me exactly where I needed to be at the exact right time to meet DR.  And meeting him helped my journey more than I anticipated. 

 DR

The following morning I woke up and was surprised to see DR approach me with a rather interesting gift.  
"This was the survival knife they gave me when I was in the airforce.  I want you to have it."  
I looked at it and thought, "that's not a knife, that's a fucking sword."  I was amazed by this gift as it made me rest assure that if I ever ran into sasquatch or needed to cut down a Redwood, I'd be ok.  More than that, it gave me what I needed to get a leg up on the competition in the underground Lobster Knife Fighting circuit.  
Dollar bills, dollar bills, dollar bills!!!
I drove down to Mobile with DR's granddad who started the trip by buying me breakfast.  He was a wonderful story teller who had worked as a state trooper.  Interesting fact, he was at the scene when famous actress Jayne Mansfield died in an autowreck. 
He filled in the details by saying when her car ran into the back of the truck it ripped off the top of her head, a detail wikipedia conveniently left out.  Anyone wanting to know how to get inside the head of this gorgeous buxom actress needed only talk to this man.
We got into Mobile about one and parted ways.  I found myself an on ramp and proceeded to make the final hump of my journey.  The first spot was a bust so I walked a few miles in the hot Ala-bammer sun to another area.  The neighborhoods I walked through were sketchy with a slight chance of lynching, so I debated with myself how quickly I could draw my new survival sword. When I got to my next destination, I was surprised to see the Matrix had been there and I had just missed it.
As I laid down my bag I repeated the mantra "there is no ride, there is no ride"
As I stood there trying to flag people down I saw a very curious site.  A car was slowly driving behind some trees towards me.  It was like a lion trying to stalk me hoping I didn't notice it, inching bit by bit forward.  It finally came to a stop and just stood there.  I looked at the car and it looked right back at me.  It seemed a show down between Wesley and the mystery car was about to take place.  The muffler fight at the OK Corral.    
After a few minutes a man popped out of the car and stood in the trees.  He was looking in my direction, but only stood there.  What the fuck was this guy doing I thought.  He went into his trunk and came out with a bunch of orange traffic cones and proceeded to walk towards me.  When he got within about ten feet I asked him what he was doing.
"I'm just surveying an accident."  Well that was a lot better than trying to pick up the main ingredient for white man meat loaf.  He looked down at my sign and said, "I'm going to Pensacola after this.  Want a ride?"  I laughed.  Wow.  Travels complete.
Tweet