My Last Minute Surprise Hitchhiking Down To Pensacola
It was my original plan to stay in Nashville all of three days, but by the end of my journey there, I had stayed there almost two weeks.  It was a town that enchanted me and was hard to leave.  My fantastic host Christine Wheatley definitely made it possible for me to extend my trip, but my journey called me onwards and I had to get down to Pensacola, FL.
I began this trip with the belief that everything I needed would come to me.  As I journeyed onwards, I found this was a belief that was about to get tested. 
I left Tuesday early in the morning, but before getting out of Dodge, I was treated to a lovely breakfast at one of my jewels of Nashville: Provence.  They have been awarded best bread by their local paper and eating it I finally experienced why.  
If you've ever had a Grandmother and didn't spontaneoulsy pop out of a hole in the ground, than chances are you had one that made delicious homemade bread just like mine did. There is something amazing that happens when you throw together flour, water, eggs, salt, yeast and cat nip.  For $3 at Provence, you can get shot put right back into such delicious childhood memories.  Quite the deal.
After taking a long nap in my friend Shante's car (who treated me to this lovely smorgasbord of culinary goodness), I hit the road once again making my way towards Pensacola to dj their first ever blues dance event.  Because the distance was 442 miles, I planned on stopping part way in Birmingham, AL.  
It was going to be I-65 most of the way since I didn't have a flying Delorean that "doesn't need roads" nor a wild haired uncle willing who made it capable of flying.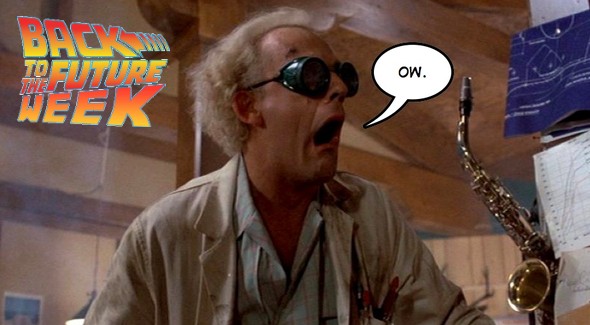 Now I suspected that my first experience hitching seemed to flow so smoothly that it was probably the exception and not the rule.  When you're gaining experience on the road you have to take things day by day and simply add them up until you have enough data to make a proper pie graph on the ratios of cars that stop to cars who see all hitchers as the scream killer. 
Mmmm…tastes like corn syrup.  Little do they understand that in the heat of the south, that uniform is just plain silly. 
I began soliticing myself to local traffic around 1 PM and after a dismal hour with no luck and a hue of remorse for not showing more leg, I picked up my bag and started walking down the highway, thumb out.  When I crossed this sign, I knew if I didn't catch a ride I'd have a ways to walk.
Now hitching while walking on the highway went against the original suggestions given to me, but I soon found out you have to modifiy as you go in order for things to work.  After a few miles of walking I was picked up by a musician whose car looked as if a grocery store had exploded in it.  I didn't care though.  He was a musician and was kind enough to give me a ride for a few miles to a truck stop where my luck might improve.  
When he dropped me off, he presented me with a tough choice that I had very little time to make a decision on.  I could either keep trying to hitch into the wee hours of night, though the later it gets the harder it gets to catch a ride.  Or, I could stay at his place and his wife would make us dinner and I could start again the following day.  Being that it was late and never wanting to turn down free food, I was very tempted. 
 So…tempting…must…resist
I considered it seriously for a moment, but then said "Nay!"  I had an event to get to, a deadline to meet and I was only about fifteen miles out of Nashville which was a dismal amount for being close to 6 PM.  I thanked him and turned down his offer.  Whether I was going to sleep under a roof with a bed or under a bridge with a troll I was going to forge ahead.
Walking along the highway is an interesting experience.  When you're out in the middle of nowhere, not knowing where you'll be that night or what will happen, there is a sense of freedom that is quite tangible.  A reality that sinks in that life is truly what you make it, and that there are more paths to take than meet the prescribed avenues society often lays out for us.  Thinking on all of this, I got to take in the beauty of the local scenery, watching a sunset over the hills.
There is something so relatable to Forest Gump when I watch a sunset in the middle of nowhere.  
After a few hours of walking, another car stopped and grabbed me.  My next ride again only took me a few exits, however when we got there he took me to a Burger King and bought me dinner.  A very kind and generous offer.  Being that I aim to eat healthy I looked over the menu, my mind going "no, no, no, no, no, no" till finally landing on a chicken sandwich in the style of grilled.  
While there, a couple overheard me talking about my travels.  They were probably in their 50's or 60's and were incredibly friendly.  They had been traveling for the past month, however their story was much different than mine.  Their son had just died, and though they were very vague, I took from what they had said that he had committed suicide.  Despite their good spirits and warmth towards me I could see the pain in their eyes and understood that being a parent is something very foreign to me. 
What amazed me though was that here, in the middle of a Burger King in po-dunk nowhere, Tennessee, I had a heart felt moment with these wonderful people who I had just met.  We hadn't known each other for weeks, only a brief moment in time and yet here they were opening up their hearts to me and telling me what they were going through.  It's touching to feel what you can share with people you consider complete strangers.  What can melt in just an instant.  
We shook hands and they left with the wish that they could give me a ride.  I decidely wanted that too, but we were heading in opposite directions.  After I finished my sandwich and talked with the cashier who snuck me out a free Sprite which I thanked her for and then threw away because I don't drink soda, I packed up my stuff and faced the truth: it was late and I was going to be sleeping out tonight.
I had prepared myself for this, and had to admit that traveling like I do, sometimes you catch a ride and sometimes you don't.  I walked out into the warm night, and looked at the highway wondering how long it would take me to find a bridge worth sleeping under that wasn't infested with fairy tale trolls who have grievances about people klick-klacking over their homes.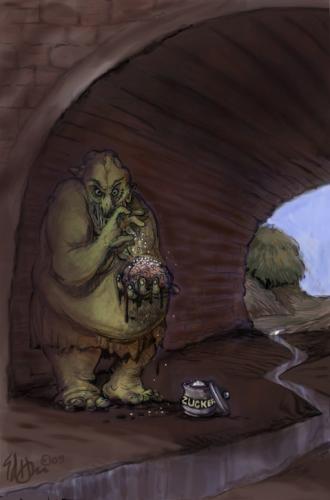 Nothing like getting "was grounded into jelly" in your obituary notice and I unfortunately was short on my troll mace.
Being that I was short on brothers who were meatier and tastier than I, my selection was crucial. That's when something very interesting happened that I did not expect.  Something that changed the course of my journey that night.
Tune in next time to read about the rest of my travels to Pensacola.
Tweet